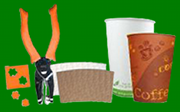 We aim to serve anyone in need of hot cup sleeves as well as cups, lids, and other sleeve accessories. Your sleeve needs probably fall into one of the following categories:
Blank Sleeves
If you want blank hot cup sleeves, the product selection is simple: choose from our blank sleeve products here or click "Sleeves: Blank" on the left.
Custom Sleeves, Just for You
If you want custom printed sleeves for your coffee cafe, restaurant, or organization, the first choice you have is one-sided or two-sided printing. One-sided printing is less expensive, starting at $99.95 per case of 1000 sleeves (there are smaller quantities available). However, two-sided printing allows you to use double the space to display your brand and provide information to your customers for only about 30% more - starting at $129.95 per case of 1000 sleeves.
You can find our custom printed sleeve products by clicking "Sleeves: Custom" on the left or use the links to go directly to one-sided custom cup sleeves and two-sided custom cup sleeves.
Custom Sleeves, Advertising Partnerships
If you own a cafe, coffee shop or other entity that needs sleeves with your brand/logo on the front, but would like to allow other businesses to advertise using the back of the sleeve, we can facilitate such a partnership by helping locate an appropriate sleeve advertising partner (we target businesses that are complementary to your business) and coordinating all the logistics for getting your sleeve partner's information on the back of the sleeve including obtaining their artwork, proof production and approval and collecting the sleeve partner payments. The advantage for you comes in tow forms: less expensive sleeves, starting at only $39.95 per case of 1000; but you also become an indispensable resource for those businesses and organizations that advertise through your sleeves!
If you are interested in a sleeve advertising partnership and you already have an advertiser or advertisers who are interested in the opportunity, please click here to fill out and submit a Sleeve Advertiser Profile - or ask your prospective advertiser to fill it out!
If you are interested in sleeve advertising partnerships but do not have a prospective advertiser, we recommend that you purchase two-sided MoJo Match promotional sleeves with your logo/brand and information on the front and our own advertiser recruitment message on the back, an awareness ad that informs anyone in your local area who sees the sleeve of the opportunity to use the printed second side to promote their business or message. This can be a very effective way to locate an advertising partner, which can then enable you to purchase sleeves at the lowest possible price, and at $89.95 per case of 1000 is even less than our regular one-sided custom sleeves.
Specialty Sleeves
We can cater to specific sleeve needs such as sleeves for churches and personalized wedding sleeves!
Cups and Lids
Sleeves and cups go, ahem, hand in hand. We carry a line of cups with lids that our sleeves fit snugly around. Let us be your cup and lid provider as well!
Other Accessories
We also carry a line of quality hole punches that we use ourselves to punch out loyalty sleeve numbers and we recommend them to our customers!